This page has it's own wiki Visit http://girlmeetsworld.wikia.com/wiki/Girl_Meets_World_Wiki
Girl Meets World is an American coming of age television sitcom. The series made its debut on June 27, 2014 on Disney Channel following the premiere of the Disney Channel Original Movie, Zapped, before assuming its normal 8:30–9:00 p.m. ET/PT time slot on Fridays, beginning July 11, 2014.[1][2][3]
The series is a sequel to the sitcom [[Boy Meets World]], which aired on ABC in its TGIF block from 1993 to 2000. The original series centered on Cornelius "Cory" Matthews, including his growing relationship with Topanga Lawrence and their eventual marriage. Ben Savage and Danielle Fishel, who portrayed Cory and Topanga, respectively, reprise their roles in Girl Meets World, which centers on the life of the couple's daughter, Riley Matthews. Her father has become a middle school teacher (and she happens to be one of his students), while her mother is a lawyer, who gains part ownership of an old world bakery in the first season episode "Girl Meets Popular". Other members of the earlier show's cast have either recurring roles or cameo appearances.
On August 6, 2014, Girl Meets World was renewed for a second season by Disney Channel.[4][5]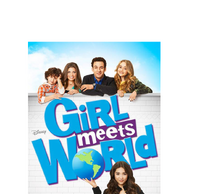 The series follows Cory and Topanga Matthews' daughter Riley (Rowan Blanchard) and her best friend, Maya Hart (Sabrina Carpenter) as they navigate the challenges of life as they start 7th grade. The show also features their classmate Lucas Friar (Peyton Meyer) and her younger brother Auggie (August Maturo). The series is set in New York City where Cory and Topanga moved in theBoy Meets World series finale.[6]
Characters
Edit
Main characters
Edit
The main characters. From left: Farkle, Maya, Topanga, Riley, Cory, Auggie, and Lucas. (Use cursor to identify)
Riley Matthews (Rowan Blanchard) - Riley is 12 years old and in 7th grade at the start of the series.[7] Riley is very much like her father. She also has a crush on Lucas.
Cory Matthews ([[Ben Savage]]) - Riley and Auggie's father and Topanga's husband, who was the lead character of Boy Meets World. He has taken a job as a history teacher at John Quincy Adams Middle School, whose class consists of his daughter and many of her friends. In addition to being Riley's father, he often acts as a father figure to Maya.[7] Cory's personality and traits are similar to those of his daughter.
Maya Hart (Sabrina Carpenter) - Riley's best friend. She is wild and rebellious, showing it in her actions such as protesting homework and almost lighting the class' homework on fire. She has a troubled past, but is social and street smart.[8]
Lucas Friar (Peyton Meyer) - Lucas is another one of Riley's friends, but also her love interest. He is originally from Austin, Texas.[7] Lucas has good manners and common sense.
Auggie Matthews (August Maturo) - Auggie is Riley's 5-year-old brother and Cory and Topanga's son. When he grows up, he wants to be like his father.[7] He believes himself to be Riley's twin, as shown in the pilot.
Topanga Matthews (Danielle Fishel) - Riley and Auggie's mother and Cory's wife.[9] Topanga is Cory's childhood sweetheart and they have been friends since they were babies. Topanga has become a successful lawyer and is a loving and protective mother as shown in "Girl Meets Sneak Attack".
Farkle (Corey Fogelmanis) - Farkle is a close friend of Riley and Maya. In "Girl Meets Sneak Attack", it is shown that he cares for the two, and will do anything for them to be happy. He is smart, and is a big flirt, while also being quite unusual. He is shown to be the teacher's pet in many episodes. He is the son of Cory and Topanga's former classmate, Stuart Minkus, with whom he shares many similarities. Farkle is shown to care a lot about his education and always keeps up with his grades in class, and could be seen as the teacher's pet. Additionally, he can also be seen as a flirt with many girls, including Riley and Maya, in which he claims he has a crush on both of them. He also has a habit of speaking in third person usually referring to himself by his own name In the third person.
Recurring characters
Edit
Katy Hart (Cheryl Texiera) - Maya's mom. For Career Day at school, one day after the event was held, Katy reveals to Maya's class that she has aspirations of becoming an actress. However, she works as a waitress at the Nighthawk Diner. Katy frequently fails to show up to any event of importance to Maya. Her relationship with Maya is reminiscent to that of Shawn and Chet Hunter from Boy Meets World.
Ava Morgan Stern (Ava Kolker) - Auggie's six-year-old girlfriend. She is manipulative, and has Auggie do whatever she asks because she is older than he is. However, Ava is ultimately oblivious to how this is affecting Auggie. Topanga makes it clear that she does not like Ava.
Evelyn Rand (Jackée) - Riley and Maya meet Evelyn on the subway in the pilot. They later call her "Crazy Hat," because of the obscure hats they see her wearing at the subway station. The girls eventually find out she is a successful businesswoman who has her own building as seen in "Girl Meets Crazy Hat."
Boy Meets World alumni Edit
The following characters from Boy Meets World made reappearances in this series:
Harley Keiner (Danny McNulty) - Cory's old high school bully. In Boy Meets World, Harley was much older than the rest of the high schoolers, due to his being held back. Now a mature adult, he works as the janitor at John Quincy Adams Middle School, as seen in "Girl Meets the Forgotten".
Stuart Minkus (Lee Norris) - Stuart Minkus is a former classmate of Cory, Topanga, and Shawn, appearing as a main cast member in the first season of Boy Meets World. Although he was often bullied by Cory and Shawn, they often looked to him for advice on girls, and Stuart was good friends with Topanga. Stuart is also Farkle's father.
George Feeny (William Daniels) - Cory's omnipresent mentor, now in his 80s. Feeny makes a cameo appearance in the pilot episode, his only appearance in the first season.[10]Mr. Feeny was Cory, Shawn, Topanga, and Eric's teacher from 6th grade, up until college, along with being the Matthews' neighbor, and a close friend of the entire Matthews family, and Shawn Hunter.
Guest characters
Edit
Mrs. Svorski (Cloris Leachman) - A local Ukrainian bakery shop owner who has a bonding relationship with Auggie.
Harrison Miller (Willie Garson) - A lawyer who is on the case with Topanga to turn Mrs. Svorski's bakery into a yogurt shop.
Gammy Hart (Charlotte Rae) - Maya's grandmother.
Development
Edit
In November 2012, it was reported that Disney Channel was in the early stages of development of a follow-up series titled Girl Meets World, which will center on Cory and Topanga's 12-year-old daughter Riley. Boy Meets World co-creator Michael Jacobs will develop the series and serve as its executive producer and showrunner. On November 26, 2012, it was confirmed by Ben Savage and Danielle Fishel that they would be reprising their roles as Cory Matthews and Topanga Lawrence-Matthews in the series.[11][12] In February 2013, it was announced that Michael Jacobs has reached out to all of the former Boy Meets World cast members to take part in the new show.[13]
On June 17, 2013, Disney Channel officially greenlit a series order for Girl Meets World, which began production that summer.[1][14] On January 23, 2014, the first-season order was increased from its initial 13-episode count[4] to 21, to make a full season.[15]
On May 2, 2014, a full trailer for Girl Meets World was released.[16] On May 21, the pilot episode became available as a preview to users of the various "Watch Disney Channel" mobile and television apps, which require TV Everywhere authentication to watch. Following the TV premiere of the pilot, the episode "Girl Meets Sneak Attack" was made available via the apps.[17] On June 13, the pilot was made available for free on iTunes.
On August 6, Disney Channel announced that the series would be renewed for a second season.[18] Production is set to begin November 2014, with the season premiering sometime in 2015.
Auditions began in mid-November 2012 for the lead roles of Riley Matthews, the daughter of Cory and Topanga; Maya, a witty friend of Riley's who has a troubled past; and Elliot, Riley's older brother. By the end of January 2013, Rowan Blanchard and Sabrina Carpenter were cast as Riley and Maya, respectively.[19][20] Teo Halm was tapped for the role of Elliot in early March.[21]
Filming of the pilot began on March 20, 2013 and concluded on March 22, 2013.[citation needed] Rider Strong and Will Friedle made a surprise visit to the set, sparking rumors of a return, or at least a cameo appearance, in the upcoming series.[22] Maitland Ward also made a visit to the set and was asked about the return of her character, Rachel McGuire. Ward said, "I can't really share any show info, but it would be fun if the old gang got back together again!"[23]
On October 5, 2013, Teo Halm announced on Twitter that he was no longer involved with the series. A report by TVLine suggested the series was undergoing creative changes after the pilot.[24]
On March 12, 2014. it was announced that Lee Norris would reprise his role of Stuart Minkus.[25] He guest starred in the episode "Girl Meets Maya's Mother", where it was revealed that Farkle is his son.
On March 18, 2014, it was announced that Rider Strong would reprise his role of Shawn Hunter for two episodes of the first season.[26]
Series overview
Edit
Season
Episodes
Originally aired
Season premiere
Season finale
1
21[27]
June 27, 2014
TBA
Episodes
Edit
| | |
| --- | --- |
| | It has been suggested that this section be split into a new article titled List of Girl Meets World episodes. (Discuss) Proposed since August 2014. |
No.
Title
Directed by
Written by
Original air date[27]
U.S. viewers


(millions)

1
"Girl Meets World"
John Whitesell
Michael Jacobs
June 27, 2014
5.2[28]
In her bedroom, Riley Matthews (Rowan Blanchard) and her best friend Maya Hart (Sabrina Carpenter) try to sneak out her window to ride the subway but are stopped by Riley's parents: Cory (Ben Savage) and Topanga Matthews (Danielle Fishel) who give them permission to ride the subway. On the subway they meet a handsome boy named Lucas Friar (Peyton Meyer) and Riley immediately crushes on him. Later in History Class, Cory (who happens to be their instructor) assigns the class the day's homework assignment, which is to write an essay about something they would fight for. Maya fights for no homework and Riley joins in. At the end, Riley discovers she would fight for friendship, and Cory and Topanga understand Riley is growing up and they need to be there for her.

Special guest star: William Daniels as George Feeny Guest stars: Corey Fogelmanis as Farkle, Jackée as Evelyn Rand

2
"Girl Meets Boy"
Joel Zwick
Michael Jacobs
July 11, 2014
3.2[29]
When Cory's plan to get his students to communicate face to face fails, he takes away their cell phones and assigns the class to prepare a disscusion about whether technology has made people better. The whole class is having trouble communicating, except for Maya, who was the only one in the class without a smartphone. Riley, Maya, Lucas, and Farkle then go to the library to do their research, and this opens up their eyes to a world without phones. Maya also discovers that she is a talented artist when given just a pencil and paper. This ultimately sparks a connection between Riley and Lucas. However, Cory desperately tries to keep them apart, once he realizes it was he who prompted these emotions into Riley. At the end of the episode, Cory gives Maya a smartphone, and says to use it to communicate to him about Riley; he also buys Maya an art kit.Guest stars: Corey Fogelmanis as Farkle, Danielle Kennedy as Librarian, Taylor Hollomon as Myzell
3
"Girl Meets Sneak Attack"
Joel Zwick
Cindy Fang
July 18, 2014
2.6[30]
Riley becomes jealous when a girl named Missy Bradford (Olivia Stuck) starts flirting with Lucas. Consequently, she enlists the help of Maya and Farkle to help her learn to flirt too. Meanwhile, Auggie (August Maturo) starts acting grown up to impress a girl down the hall named Ava (Ava Kolker) but Cory and Topanga aren't ready for him to grow up yet.Guest stars: Corey Fogelmanis as Farkle, Olivia Stuck as Missy Bradford, Ava Kolker as Ava
4
"Girl Meets Father"
Joel Zwick
Randi Barnes
July 25, 2014
3.3[31]
Cory struggles with his emotions when Riley wants to attend her first school dance instead of continuing the tradition of her and her father riding the Coney Island Cyclone roller coaster, which they have done every year since Riley was young. In addition, Maya gets an F on a quiz, prompting her to say that Cory failed her, leading her to "quit" school. Both girls having told him there is nothing more he can teach them, Cory feels he has lost them, though Topanga assures him that his intentions are good and he will never give up on those he cares about, Cory does chaperon the school dance and for the last dance, he chooses to do a father-daughter dance with both Riley and Maya, One tradition ends but two new ones are created.Guest stars: Corey Fogelmanis as Farkle, Sari Arambulo as Sarah
5
"Girl Meets the Truth"
Joel Zwick
Matthew Nelson
August 1, 2014
2.8[32]
Maya starts wearing a locket. When Maya refuses to tell Riley where she got it, Riley starts wondering if she stole it. Riley discovers that Maya took from the lost and found. Topanga antagonizes Cory after he insults her cooking. Cory, Riley, Maya, and Farkle learn a lesson about truth. At the end, Maya gives back the locket to the girl who lost it.Guest star: Corey Fogelmanis as Farkle
6
"Girl Meets Popular"
Jon Rosenbaum
Jeff Menell
August 8, 2014
2.4[33]
Riley gets invited to her first boy girl party, and expects this to be her ticket to popularity, only to find that it is a "geek party." When Riley realizes that she is adored by the nerds, she decides to become their "queen." Meanwhile, Topanga is knowingly on the wrong side of a case, and channels her inner-former self for motivation to do the right thing.

Special guest star: Cloris Leachman as Mrs. Svorski Guest stars: Corey Fogelmanis as Farkle, Willie Garson as Harrison Miller, Cecelia Balagot as Smackle, Mekai Curtis as Shumpert and Nathaniel James Potvin as Academic Top Half. Rider Strong (Shawn Hunter) is featured via archive footage in a flashback sequence, from the Boy Meets World episode "Cory's Alternative Friends", but he is not credited.Absent: Peyton Meyer as Lucas

7
"Girl Meets Maya's Mother"
John Whitesell
Matthew Nelson
August 15, 2014
4.1[34]
Riley and Maya's art teacher, Ms. Kossal, comments on Maya's art work and suggests she show it at the upcoming art fair. On career day, Stuart Minkus (who turns out to be Farkle's father) takes a visit to their school and a battle ensues between him and Topanga. Maya's mother, Katy Hart, fails to show, but does the next day (although Maya wishes she hadn't); she is a waitress but demonstrates her wish to be an actress. Riley talks to Katy, wanting her to come to the art fair to see her daughter's work. When Katy does not show up, Riley talks to her again wanting to know why, and realizes Katy is fearful of embarrassing Maya. Katy gives Riley a tuna melt to give to Maya, who reveals that it is her favorite at the Nighthawk Diner, where her mother works.Guest stars: Corey Fogelmanis as Farkle, Lee Norris as Minkus, Cheryl Texiera as Katy Hart, Aisha Kabia as Ms. Kossal
8
"Girl Meets Smackle"
Ben Savage
Teresa Kale
September 12, 2014
2.4[35]
Isadora Smackle, a debate champion from a rival school, seeks the affection of her nemesis, Farkle, but he does not share in that feeling. So Smackle turns to Riley and Maya to make her beautiful. Farkle does not fall for the makeover, though, and believes Smackle's new look gives him an edge over her in an upcoming debate about beauty. Even with Lucas' joining the debate team to help him out, Farkle soon realizes from Smackle (who wins that debate) how wrong it is to assume.Guest star: Cecelia Balagot as Smackle
9
"Girl Meets 1961"
Rider Strong
Matthew Nelson
September 19, 2014
2.5[37]
Cory gives Riley, Maya, Lucas and Farkle an assignment that takes them back into 1961 New York City to research their ancestors. After finishing and sharing their research, the four friends realize that their ancestors met each other at a restaurant in New York City.[36]Absent: August Maturo as Auggie Matthews
10
"Girl Meets Crazy Hat"
Joel Zwick
Lauren Otero
September 26, 2014
2.5[38]
Cory spilts the class up into two fake companies. The two companies run on totally different things, one on customer happiness and one on profits. Riley and Maya meet a businesswoman on the subway. [36]Guest stars: Corey Fogelmanis as Farkle, Jackée as Evelyn Rand, Ava Kolker as Ava
11
"Girl Meets World: of Terror"
Joel Zwick
Teresa Kale
October 2, 2014
2.2[39]
Three Halloween tales are told in this episode: Farkle fears getting hit by the ball in gym class; Riley fears sleeping over at Maya's house; and Auggie fears monsters under his bed. Each realizes in the end there is no need to be scared.Guest stars: Corey Fogelmanis as Farkle, Charlotte Rae as Gammy Hart, Michael D. Roberts as Coach Gleason, Nicolas Bechtel as Monster Under The Bed
12
"Girl Meets the Forgotten"[27]
Joel Zwick
Jeff Menell
October 10, 2014
N/A
Riley and Maya are put to the test when they are forced to work in the school cafeteria. Lucas and Farkle are assigned janitorial duties. In the end, Riley, Maya, Farkle, and Lucas all learn that working at the Cafeteria and being a janitor is not so easy.[40]

Guest stars: Danny McNulty as Harley Keiner, Sonya Eddy as Geralyn ThompsonAbsent: August Maturo as Auggie Matthews

13
"Girl Meets Flaws"[27]
October 17, 2014
N/A
When Farkle gets teased he stops going to the school. Riley, Maya and Lucas realize that one's unique characteristics should be respected, not ridiculed[40]
Reception
Edit
Critical reception
Edit
Girl Meets World has received positive reviews from critics. Review aggregator Rotten Tomatoes gives the show an 82% approval rating based on reviews from 17 critics, with an average score of 7.3/10. The site's consensus states: "Though not quite as comical, Girl Meets World sweetly shares the nostalgia of its predecessor, Boy meets World, [sic] with its young audience while providing positive moral values for today's youth."[41] Metacritic gives the show a score of 64 based on reviews from 10 critics, indicating "generally favorable reviews".[42]
Kevin Fallon of The Daily Beast called the show a, "perfectly pleasant Disney Channel show".[43] Rob Owen of Pittsburgh Post-Gazette said it was, "a cute half-hour that capably introduces new characters and sets the table for the new series".[44] Diane Warts of Newsday said the show, "does its job of bringing tween-based family viewing into the 2010s".[45]The series premiere garnered 5.2 million viewers.[46]
Similar to critical reception, viewer reception has also been positive for Girl Meets World. IMDb users have given the show a 7.1/10 rating from approximately 2000 user reviews,[47]and on Rotten Tomatoes, it holds a 82% approval rating based on over 120. TV.com has given the show a 8.7/10 rating from nearly 100 users.[48] On Metacritic, Girl Meets Worldholds a 7.6/10 from over 35 users, indicating "generally favorable reviews."[49]
Season
No. of


episodes

Timeslot (ET)
Premiered
Ended
Average


Viewers
(in millions)

Premiere
Viewers


(in millions)

Finale
Viewers


(in millions)

1
11
Friday, 8:30 pm
June 27, 2014
5.2
TBA
TBA
3.0
Awards and nominations
Edit
| Year | Award | Category | Recipient | Result |
| --- | --- | --- | --- | --- |
| 2014 | Teen Choice Awards | Choice Summer TV Show[50] | Girl Meets World | Nominated |
Broadcast
Edit
The series originally premiered on June 27, 2014 on Disney Channel in the United States and Family Channel in Canada, Disney Channel (Australia and New Zealand) premiered the show on August 25, 2014, and Disney Channel (UK and Ireland) released the show on August 29, 2014.
References
Edit
1 https://en.wikipedia.org/wiki/Girl_Meets_World
2 http://girlmeetsworld.wikia.com/wiki/Girl_Meets_World_Wiki
External links
Edit
| | |
| --- | --- |
| | Wikiquote has quotations related to: Girl Meets World |
| | |
| --- | --- |
| | Disney portal |
| | Television in the United States portal |
| | Comedy portal |
| | 2010s portal |
| | New York portal |